Category —
Curvy Life
I ran 6.2 miles today.
Well, technically, I ran 4 miles and walked 2.2 miles, but using the rules of mathematics, since I ran over half the distance, I'm rounding myself up from walking to running.
I'm not exactly the person who's supposed to run 6.2 miles, or 4 miles, or even 1 mile. I'm a slow, heavy, 40-something woman.
Sometimes, when I doing my slow, steady stride, running so slow that I feel like I'm running backward, I find that my mind still doesn't quite get what's happening, and I'll catch myself thinking, with genuine surprise, "Hey, how are you doing this? You're running!"
How did I do it?  [Read more →]
You hear horror stories about being a big girl running in public. One of the biggest advocates for plus-size running quit blogging about her experience because of the hatefulness of the "trolls" constantly berating her on the blog. Add to that, she was assaulted (more than once) by passers-by in cars hurling insults, and the occasional beer can, at her as she jogged down the side of the road.
I've walked in public pathways for years without any such experiences, so while the thought of being heckled publicly was a little disconcerting, that wasn't my biggest fear. My real fear was participating in a group. [Read more →]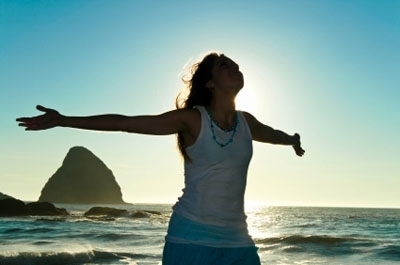 I read an interesting article in Whole Living magazine (June 2011 by Lori Leibovich) about a book called "The Self-Compassion Diet." While the book is targeted at dieters, I found the tenants of self-compassion applicable to the business of life.
To quote from the article: "According to Kristin Neff, the University of Texas professor who created the self-compassion scale used in psychology research today. self-compassion has three essential components: mindful awareness, which translates to giving full attention to the present moment with as much acceptance as you can muster; self-kindness, or treating yourself with care rather than beating yourself up; and and common humanity, the understanding that suffering is part of the human experience and that you are not alone."
So, wherever you are in your process, for the good or for the bad, make sure to give yourself a daily dose of self-compassion. Have acceptance for where you are today, treat yourself kindly, and remember, you are not on this journey alone, seek out those who can relate to where you are and where you want to be.
Though every day at The Curvy Life is Love Your Body Day, October 20 is NOW's official "Love Your Body" Day. Check out their website,  especially the winners of the poster competition. A big Georgia shout-out to winner Deepsy Patel, of Conyers, GA for the gorgeous poster above.  And as a bonus, poster images can be sent as e-cards from the site.
If you're on Twitter, you can follow NationalNOW and use the hashtag #lybd to talk about Love Your Body Day and the things you are doing to celebrate! You can also find NOW on Facebook, where we also have a Love Your Body Cause. And while your there, follow me, CurvyA on Twitter and join our Curvy Life Facebook Page and share your thoughts on body love.
I'm at the beach getting ready to spend the day in a swimsuit, so I thought it was appropriate to give a little shout out to Nikki Blonsky, not only for literally being the poster girl for big-bodied girls on the show "Huge," but for appearing IN the show in a bathing suit. It's one thing to be in a photo that can (and has been) retouched, but quite another to appear on video.
I found the composition of this poster shot to be fascinating. Nikki's character is supposed to be very confident in her appearance and have no desire to loose weight. However, this poster image is not the picture of confidence. What's the message here? I can think of several possibilities:
Is it the positive-body-image-is-fake attitude? There are those who will claim that, even though this girl claims to be confident, at heart, she really isn't. Or, is it that, no matter how confident a girl may be in her body, putting on a bathing suit is a confidence-shaking experience? Or, is it that the vast majority of women, no matter the size, feel uncomfortable in a bathing suit, and feel "Huge"?
Whatever the message, I think she looks cute in the suit, and I post the image to encourage you to get out there and enjoy the summer, and to not avoid activities that you want to participate in due to swimsuit phobia.
"Well, Blanche was an oversexed, self-involved, man-crazy, vain Southern belle from Atlanta – and I'm not from Atlanta"–Rue McClanahn
The passing of Rue McClanhan this week has me thinking about the "curvy" message of "The Golden Girls." The show ran from 1985-1992, and is now in reruns on the WE TV network(they're running a "Golden Girls" marathon today). I watched the show in it's first incarnation, and I've been enjoying it 20+ years later, but for much different reasons.
When the show was first on, it was a popular, Emmy-award winning comedy. I watched it because it was fun and funny, with strong female leads. Returning to the show all these years later, I am struck with how far ahead of its time the show really was, and how powerfully these "older" (they don't seem nearly as old to me as when I was 19 years old), single women were portrayed.
Here you have four single women over the age of 50 portrayed as vibrant, sexual beings. And while they may express concerns about aging and romantic prospects, they never engage in self-loathing or body hatred. I can only remember one episode in the 7-year run where a main character's weight was an issue. (Blanche was trying to loose weight to fit in her wedding gown for her wedding anniversary, an annual ritual for her. I also remember a trip to an aerobics studio, but not sure if these were connected.) These women never fretted over finding romantic partners. In fact, even the 80-year-old Sophie had a fairly robust sex life. They had careers, even changing careers later in life, had fabulous 80s wardrobes, fully engaged life. They ate cheesecake and never fretted over the calorie count. They weren't stick thin, but they never sat around complaining about cellulite, thigh-size, lower-belly pooching, and wrinkles.
Where on TV today do we see women over 50 (or any women, for that matter) portrayed in this way?
So, farewell Blanche Devereaux. Thank you (and Dorothy, Rose, and Sophie) for embracing the curviness of lie and leaving a great model for female empowerment at any age.
This is the first part of a three-part interview with Chastity Garner, author of The Curvy Girl's Guide to Style (Volume 1)
.
I had the chance to hang out with Chastity and get a copy of her book on May 29, 2010, at a book signing event sponsored by a great Atlanta consignment store, Stylish Consignments (sizes 0-26).
Chastity is a gorgeous curvy stylist and former plus-size model. Drawing from her own experience and her work with her clients, Chasity has created a resource "to help guide, encourage, and inspire the inner stylistas in the many beautiful, curvy women out there." Chastity's advice comes with a dose of "tough love." She speaks frankly about things that she thinks "shouldn't see the light of day." And her advice isn't just for big girls–she's got advice that works for most sizes.
The book is full of resources and advice. Just flipping through the book a couple of great suggestions caught my eye that apply to any size:
Carry a clutch big enough to fit a thin pair of flats if you are going for a night of dancing.
Don't limit yourself to plus-size stores when shopping. The designer of the garment may have intended the garment to be worn one way, but this doesn't mean you can't wear it another way.
The best relationship you can make for your fashion future is with your tailor.
To order the book: The Curvy Girl's Guide to Style (Volume 1)
For ongoing advice from Chasity: http://garnerstyle.blogspot.com/.
(You can look for Parts II and III later in the week.)
I just left the world's longest comment in reply to a very brave commenter on the site, but she touched me in a profound way. I wanted to share a portion of my reply, because I think she has hit upon one of our biggest fears as women: how am I perceived by others when I walk out the door. I know that pain and that fear. I lived with it for many years. I feel like I sacrificed my 20s to it. And after crying a river of tears, here's the realization that I came to: perception of others is relative and meaningless. The only perception that matters is our own.
I learned this when I had a chance to spend time in West Africa around the time I turned 30. At that time I was a size 20 (at 5'5″ tall), so I was definitely full-figured. I was always concerned that I was perceived as unattractive, particularly by men (though I had no lack of male attention). However, I showed up in West Africa, and I was a beauty queen. This is a culture that perceives big female bodies as beautiful. Men followed me down the street everywhere I went. A size-2 girl there is considered homely and sickly looking, and encouraged to eat. When I left, I decided that if I was hot stuff in West Africa, I was hot stuff everywhere, and you know what, I am. In fact, I always was (a red slipper moment, for sure).
Truly, the only perception that matters is your own. While you are worried about how others are perceiving you, they are all worried about how YOU are perceiving THEM. And who cares how anyone else perceives you? A woman who is bigger than you may look at you, think you are skinny, and wish she were you. A  woman who is smaller than you may look at you and think you look big. Who cares? Do you judge all your friends by their body size? Or, once you get to know them, do you judge them by their character and their heart?
[And, as far as how potential partners may perceive you, I can tell you from personal experience: whatever you've got, there's someone out there who thinks you've got it, and he (or she, depending on your preference) wants it.]
Now, this is not to say that there aren't ugly, mean people out there who will say hurtful things. And, if you're experience is like mine, some of them may be related to you. However, it's not just size that we are judged on in the minds of these types. It may be gender, income, lifestyle, education, background, race, what side of town you live on, where you go to church, whom you choose to love. A double, "who cares?" Are we going to let our lives be controlled by what others think of us? Then we will waste the precious gift of the life we've been given.
Thus, I charge you all: see your own beauty, release the burden of the perception of others. When you are hungry, eat. Stop when you are full. Eat healthy, nutritious food to fuel your body. Exercise in a balanced way. Get proper sleep. Treat your body well. And don't worry about a number in a garment or on a scale. Perceive, SEE, the brilliant, beautiful human being that you are. Be happy. Live happy.
Does my obvious affection for this sign give you a hint at how excited I was to attend  an exclusive sneak peek screening of the second season premiere of DROP DEAD DIVA?  Following a screening of the episode, we were treated to a panel discussion and Q&A with cast and crew. The episode was fantastic–if you do nothing else, make sure you watch the opening sequence with a spectacular dance number with a hot big-girl outfit and choreography by Tyce Diorio (you SYTYCD fans will understand that reference).
I am actually a reluctant fan of the show. When I first heard about the concept for Drop Dead Diva, I was concerned. Here's the pitch:
Drop Dead Diva follows a beautiful-but-vapid model wannabe, Deb, who finds herself relegated to the body of a plus-size attorney, Jane (Brooke Elliott), following their deaths. While the placement was accidental, it just might be divine intervention if it can help self-centered Deb learn to use her brain, rather than her looks to get by in life – with a little help from her loyal assistant Teri Lee (Margaret Cho).
When I saw the first trailer for the show, I was livid. It sounded to me like the story of a skinny, vapid, girl who is "punished" for her shallowness by being "trapped" in the body of a fat girl so that she could learn to be a better person. Way to kill two stereotypes with one stone! However, I've been pleasantly surprised with the show, and I find it's treatment of the main, curvy character to be far more balanced than I had feared. No one is being punished, and you root for Deb/Jane to find acceptance, rather than for her to lose weight.
So, I was thrilled on Sunday to get to ask Brooke Elliott about the show and her experience as a curvy actor in a weight-obsessed industry. Brooke has been acting for 10 years, primarily on Broadway, prior to Drop Dead Diva. She describes her experience:

If your in Atlanta and taking a staycation for the holiday, you'll want to check out this event, sponsored by Stylish Consignments. Not only can you groove around this great book, but you can find out about Stylish Consignments, a consignment store featuring clothes for Curvy Girls size 14-30. Not only can you buy, but you can earn extra cash by cleaning out your closet.  You don't even need an appointment to bring your clothes in. Call 770.676.0953 or visit stylishconsignments.com for the details.
When I was waxing poetic to my 30-year-old sister about how I loved the Sex And The City and can't wait for the new movie ( I went to see the first movie two days in row), she made the statement in the title:
"I just don't get why you would care about the lives of rich, skinny, privileged white women who would spend $100,000 on shoes."
This is why I didn't invite her to see the movie with me; in fact, both times I saw the first SATC movie, I went by myself.  I am not the "typical" SATC fan (if there is such a thing): I was late coming to the show in its original HBO run—I didn't start watching it until several seasons into the show. I don't have a gaggle of girlfriends with whom I gathered to gawk and gab about the show (a straight male friend of mind convinced me to give the show a try.) In fact, for many years I felt guilty for enjoying the show—doesn't this just promote a doubly impossible beauty standard for women of never too thin, never too rich?
Can a curvy girl feel empowered by SATC? This curvy girl was.  I was so taken by the first film that I had to go straight out and have a cosmo and collect my thoughts on the entire experience.  Not only did I enjoy the movie, but I left the film feeling extremely empowered, feeling fabulous and capable of doing anything my heart desired. Why?
This article from The Week made me squeal:
Fox and ABC have refused to air Lane Bryant's new lingerie commercial, claiming that plus-size cleavage is too prominent. This girl is very hot, but Victoria's Secret Ads run all the time, so what's wrong with this?
Happy Friday, Curvy Girls!
A big thanks to curvy friends Pamela Starr and Oana Hogrefe for pointing me to TheFrisky.com for this article from the Daily Mail: Looking at curvy women 'gives men the same high as alcohol or drugs.'
According to a new study, when men see pictures of women with high waist-to-hip ratios (think hourglass figure) the reward centers of the brain light up, in the same way drugs and alcohol affect the brain. And altering the weight of the woman in the picture didn't impact the result.
This research confirms the earlier research by Sir Mix-A-Lot that "when a girl walks in with an itty bitty waist, and a round thing in your face, you get sprung."
So curvy friends, get out there and "shake it, shake it, shake it, shake it, shake that healthy butt."
I'm not always a fan of Lane Bryant jewelry (I find it is often poorly made), but I love this necklace that I picked up for an event. It's a little pricey for LB at $39, but I used a coupon and the BOGO offer (offer in store and online), and felt like it was worth it. It's very striking and conversational, and I always get compliments when I wear it.
I always recommend that you have a superpower accessory–something that makes you feel fabulous and opens the way for people [meaning men] to talk to you. I think this piece is an ideal candidate for superpower status.
I just added Crystal Renn's book Hungry: A Young Model's Story of Appetite, Ambition and the Ultimate Embrace of Curves to my holiday reading list. Crystal is showing up everywhere these days (she's one of the models profiled in Glamour's article embracing size diversity), and her story is fascinating.
It's heartbreaking (and familiar) when she outlines a typical menu for the day when she was a traditional model:
Breakfast: Steamed vegetables, fat-free dressing, stick of sugar free gum

Lunch: Head of lettuce or more steamed veggies, can of Ultra Pure protein shake (vanilla cream flavor, 160 calories), sugar-free Snapple, apple, stick of sugar-free gum

Dinner: Steamed vegetables, fat-free dressing, stick of sugar free gum

Snacks: 6 sticks of sugar-free gum, 2 Diet Cokes
And she was still in her teens.
And check out the pictures and the comments she received when she was in the size 0-2 range. Again, it will break your heart.
At 5'9″, size 12, I'm happy that we are seeing more of Crystal Renn in mainstream fashion layouts.